UNITY OIL FIELD, South Sudan -
16 Nov 2012
Oil flows again between Sudan, South Sudan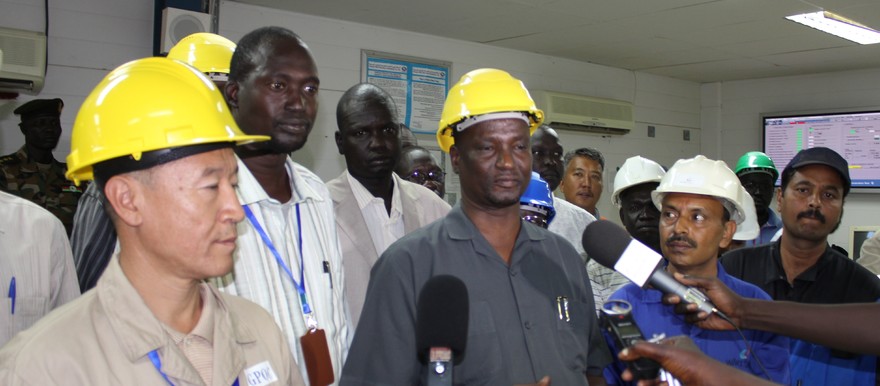 Oil company executives and the state government celebrated the re-start of drilling and pipeline equipment in South Sudan's Unity state yesterday. The celebration comes ahead of a formal launch event next week to be attended by members of the national government.
The oil flow between Sudan and South Sudan was interrupted since January this year when South Sudan shut down its production after failing to agree with its northern neighbor on terms for pipeline transit fees and settlement of arrearages. The Cooperation Agreement signed in late September ended the dispute and eased border tensions that climaxed in April during battles at the Heglig oil field.
Unity field operated by Greater Pioneer Operating Company, formerly known as 'Greater Nile,' yesterday began pumping oil from wells that had been previously closed since the shut-down early this year. Officials launched 'engine 6' and 'engine 9', which are machines for maintaining the flow of oil from the wells to a collection point, and from there onward to Heglig and the Red Sea port to the north.
The state governor, Lt. Gen. (ret.) Taban Deng Gai, spoke at Unity oil field to mark the occasion: "I think this is a very important day to the Republic of South Sudan and to the citizens of the Republic of South Sudan, and also to the citizens of the Republic of Sudan. I congratulate all Sudanese people, the south and the north, for this day."
"The disagreement was about the sharing of resources, where we thought that we were being cheated… all those issues of disagreement are resolved in the issues of oil," he said.
According to the September deal on oil fees, South Sudan will pay Sudan $11.00 per barrel for oil from the Unity state fields. Those fees break down to $1.60 per barrel as a processing fee, $8.40 per barrel as a transportation fee and $1.00 per barrel as a transit fee. The fees for the Upper Nile pipeline to the east are slightly lower.
"We believe we can cooperate as two nations. We are one people, we are Sudanese in general. What makes people quarrel is politics," said the governor.
Abraham Dak Tural, the state information minister, told Radio Tamazuj that the purpose of the field visit was to open "the machines that make the oil flow between the two countries."
A Chinese field production manager for CNPC identified as Kua commented: "This is the start of our power plant engine number six. I believe this engine number six will run a long time and pave more efforts for our power supply for our [southern] field."
The governor said that he expects that dignitaries from the national government will come for the official launch on 21 November, mentioning the oil minister but not the president. It was reported in Juba media that Salva Kiir would attend the event next week.