Observer says IGAD revitalization is last chance for peace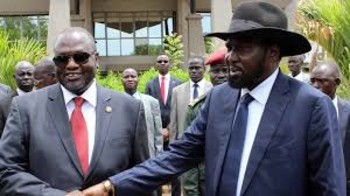 A South Sudanese observer warned on Monday that the IGAD-led revitalization of the 2015 peace agreement was the last chance for warring parties to end the war, now in its fourth year.
James Okuk, a political science lecturer at the University of Juba, told Radio Tamazuj that the international community is ready to support the 2015 peace deal, if the warring parties are willing to revive it.
He pointed out that the international community is growing impatient with leaders in South Sudan and that the "viable alternative" to bring an end to the ongoing civil war is through the revitalization process.
"Peace is the only chance. If we say that the option is trusteeship, I think it will be problematic, so the revitalization process is the only chance," he said.
"The plan agreed by the regional IGAD group is the last chance for salvaging the peace agreement," he added.
The seven-nation IGAD group agreed to launch the "revitalization forum" to push for a permanent ceasefire and talks on ending the war next week.
Members of the Troika (Norway, the United Kingdom and the United States) have recently threated to identify and hold responsible those who are blocking peace efforts in the country.