Observer: Lack of political likely to hinder South Sudan peace deal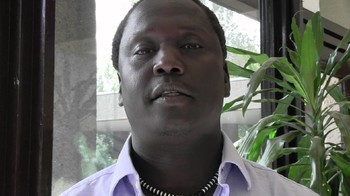 Photo: Dr Jok Madut Jok
A South Sudanese scholar concluded that all hurdles ahead of the implementation of the signed peace deal cannot be removed unless peace partners demonstrate political will throughout the transitional period.
After years of fighting and failed deals, President Salva Kiir and opposition groups signed a peace deal in the Sudanese capital Khartoum last Sunday.
Dr. Jok Madut Jok, Co-founder of the South Sudanese think-tank, the Sudd Institute, said in an interview with Radio Tamazuj that the signed peace agreement can be implemented smoothly and reforms can be instituted by the peace partners, but personalization of political and national issues usually gets in the way and causes problems in the country.
"I think dialogue is the only solution when it comes to political issues and other national issues… We need our president to change the way he runs the country," Jok said.
The South Sudanese observer further said political leaders need to embrace tolerance to avoid polarizing the country along ethnic blocks to ensure that the implementation phase is smooth.
"A president shouldn't chastise a citizen for joining a rebellion led by somebody from a different ethnic group," he said, referring to President Kiir's recent comment on the opposition group led by General Thomas Cirillo.
The signed peace agreement, according to Dr. Jok, would not offer far bigger benefits except stability to impoverished due to bloated transitional government which will run for three years.
Dr. Jok further said he sees that the elites stand to be the big winners in the upcoming transitional government, while the benefits for ordinary citizens would be limited.
The South Sudanese intellectual pointed out that it was unclear whether anything in the peace deal had been agreed fully without pressure on the warring parties at the negotiating table in Khartoum.
"We have seen the president when he snubbed Riek Machar for a handshake. It was also clear when he returned to Juba, so it's like he was forced to sign the agreement," he explained.
"The other opposition groups also announced publicly that they were intimidated to sign the agreement. The parties are still sceptical," he added.
However, the political analyst predicted that the signed power-sharing agreement between South Sudanese President Salva Kiir and opposition groups will hold, arguing that the people of South Sudan support the signed peace agreement because they have suffered a lot from the conflict.
"I can say that peace is actually a process, and if political leaders agree and demonstrate political will to implement the key provisions of the agreement until elections, I am sure we will be able to build peace," he said.
"Peace agreement is an opportunity to negotiate and to continue negotiating throughout the implementation period. If the parties have political will, differences can be solved through dialogue to avert armed conflict," he added.