Northern Upper Nile under lockdown after citizens escaped from quarantine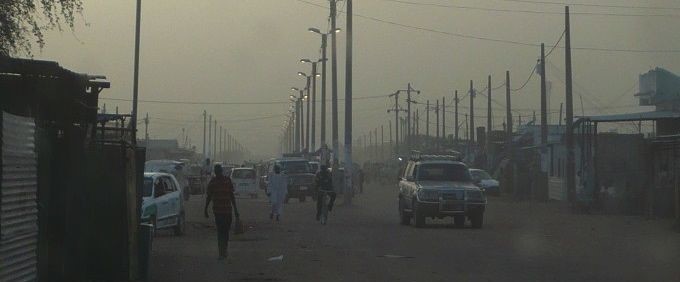 File photo: Renk market at dusk
Northern Upper Nile areas have been placed in lockdown after hundreds of people escaped from a quarantine centre in Renk town this morning.
Northern Upper Nile consists of Maban, Renk and Melut counties.
Deng Goc, an MP representing Renk constituency, told Radio Tamazuj on Friday that hundreds of South Sudanese who crossed the border from neighboring Sudan have fled quarantine centres in Renk town.
According to Goc, those people escaped before completing a mandatory quarantine period meant to prevent the spread of the coronavirus.
"Citizens who stranded at the Sudan border were allowed to come to Renk because they were living in critical conditions. The authorities brought about 500 individuals on Thursday evening and put them in quarantine in Renk," he said.
"Unfortunately, those people broke out of a secondary school where they had been quarantined as a coronavirus precaution and ran away. So, Renk town is now at high risk because those who escaped were not tested," he added.
The lawmaker disclosed that the authorities have placed northern Upper Nile areas in lockdown as a coronavirus preventive measure. "The authorities resolved to put northern Upper Nile in lockdown and stop people from leaving or coming to the area for 14 days, except for cargo planes and food trucks," he said.
The lawmaker urged the country's taskforce on coronavirus to assist health officials in Upper Nile to control the situation. Goc advised the residents to observe high standards of hygiene and limit unnecessary human contact.
For his part, Renk Police Commissioner Major General Manyok Jurkuch confirmed that they have put northern Upper Nile areas under lockdown for 14 days.
"People would not be allowed to leave northern Upper Nile, in a move to contain the situation," he said.
Meanwhile, Jok Chuli Jok, Director General of the Ministry of Health in the defunct North Upper Nile State, complained about the lack of protection equipment and coronavirus tests at the border with Sudan.
Jok revealed that the state ministry has launched a campaign in Renk town to educate the public about the deadly coronavirus pandemic.
A number of measures were put in place in South Sudan - including the closure of the country's international airport and borders.
Neighboring Sudan has three confirmed coronavirus cases, one of which has died.