Northern Liech state rejects 'claims' FVP plotted to kill governor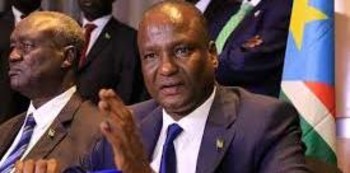 Authorities in South Sudan's Northern Liech State have rejected claims that the country's First Vice President Taban Deng Gai was part of bid to assassinate Governor Joseph Nguen Monytuil.
Governor Monytuil survived an assassination attempt after a bomb was thrown at his vehicle in the capital Juba over the weekend.
Northern Liech's Minister of Information Lam Tungwar told Radio Tamazuj this afternoon that the state government denies General Gai's involvement in the apparent assassination attempt on Governor Joseph Nguen Monytuil.
"As the official spokesperson of Northern Liech, I would like to say that what is circulating on social media platforms is untrue. The governor has not made any statement," he said.
Lam further said National Security officials responded immediately to the incident and that an investigation is underway. "The government is working on the attempted murder, so let's wait for the final results," he said.
The state government official confirmed that two suspects had been arrested in connection with plot against the state governor's life.
"The governor is not accusing anybody, so we condemn what is being reported by some media that the First Vice President is behind the incident," he said.