Northern Liech official reports major cattle raid in Koch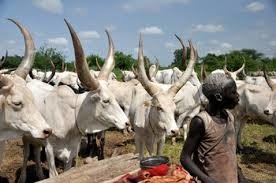 Authorities in South Sudan's Northern Liech State have accused gunmen believed to be neighboring Southern Liech state of raiding cattle in Koch County on Wednesday.
Northern Liech's Minister of Information Lam Tungwar told Radio Tamazuj on Thursday that gunmen came from Mayendit in Southern Liech to raid heads of cattle at a cattle camp in Koch County.
He pointed out that the number of cows raided remains unconfirmed.
For his part, Southern Liech's minister of information Franco Duoth denied the incident. "What is being said by the minister of information in Northern Liech is not true. No citizens from Southern Liech crossed the border to raid cattle in Northern Liech," Duoth said.
He instead accused local militias from Northern Liech of involvement in the attack.