'No compromise' with Kiir on states issue: SPLM-IO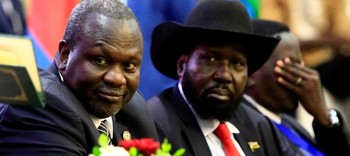 South Sudan's main opposition group on Tuesday said it did not compromise on the number of states in the peace agreement signed with President Salva Kiir.
The group expressed these views after President Salva Kiir said in his speech at Juba Airport on Monday that he accepted the country's opposition leader Riek Machar to work as first vice president after accepting the current 32 states.
"We want to confirm that no compromise was made on the number of states. The agreement we signed with the government is clear," Puok Both Baluang, the SPLM-IO's director for information told Radio Tamazuj.
He stressed that the dispute over the number and boundaries of states will be settled by the Inclusive Boundaries Commission as per the signed peace agreement.
"So we want to say that we did not accept the controversial 32 states because the creation of those states was not based on any legal procedure," he said.
The opposition official said no effort would be spared by his group to ensure that the dispute over the number and boundaries of states is settled under the provisions of the peace deal.
According to the signed document, an Inclusive Boundary Commission (IBC) will be formed within two weeks of the signed agreement to settle the dispute over the number of states and will complete its work within 90 days.
It also says in the unlikely event of the commission failing to make its final report before the end of its term, it will be automatically transformed into Referendum Commission on number and boundaries of states under the direct supervision of the African Union and the IGAD.
The referendum, according to the peace agreement, will be conducted before the end of the pre-transitional period.