Nimule border closure causes increase in food prices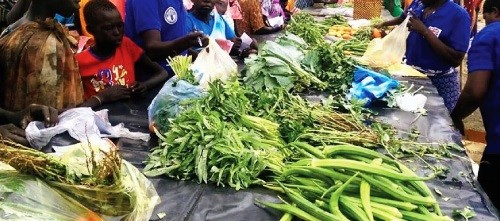 File photo
The recent closure of South Sudan's border with neighboring Uganda has led to increase in food prices in the border town of Nimule, the Chamber of Commerce said.
South Sudan imports almost everything from neighboring countries.
Abuni Michael, the chairperson of Chamber of Commerce in Nimule town, told Radio Tamazuj on Monday that high food prices at various locations in the area do not favour citizens.
"There is an effect. Prices have gone high especially for imported goods like food items. For example, a 25kg bag of rice, which was at 5,000S SP, is now 7,000 SSP. There was only one person who brought floor, but the whole of it was bought," Abuni said.
He added, "If goods do not enter South Sudan, there will be a lot of problems with prices. Even greens from the Ugandan side come after delays. A bunch of greens, which was being sold at 10 SSP, is now 40 SSP".
The Chamber of Commerce official urged authorities in both countries to allow goods move without delays to help traders and consumers.
Col. Mbiko Barakati, the police inspector for Nimule Town Council confirmed the closure of the common border between South Sudan and Uganda because of the new coronavirus.
The police officer stated that nobody will be allowed to enter the country through Nimule, except for food trucks and fuel tankers.
Uganda on Wednesday confirmed five new cases of the novel coronavirus (Covid-19), bringing the total to 14.