NGOs under threat in Pibor, aid workers evacuated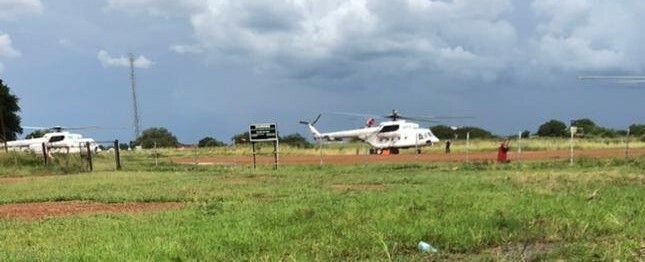 Dozens of aid workers in a remote and troubled part of South Sudan had been evacuated to Juba "for their safety" following a rise in threats against them.
The relocation of humanitarian staff in Pibor town, in the country's east, to the capital city comes just a day after a threat against aid workers in the area.
On 4 October, a letter reportedly from a youth group in Pibor was issued, demanding at least 30 humanitarian personnel leave the area within 72 hours. The youth group accused humanitarian personnel from other parts of the country of occupying positions that they say belong to the local community.
"Helicopters were sent by the United Nations to Pibor yesterday (Tuesday) and we were evacuated to Juba," one of the evacuated aid workers told Radio Tamazuj.
The aid worker revealed that some of their electronic devices were forcibly ceased by the local youth at the Pibor Airstrip during the evacuation process.
"Some laptops and other devices like projectors were taken from some NGOs. Honestly, no one was beaten up. I think maybe because the place was guarded by the UN police," he said.
Another evacuee, who preferred not to be named, said they would not resume humanitarian operations in Pibor until their safety is guaranteed.
"Actually the issue started on Sunday but the letter reached us yesterday (Monday). According to the youth, they are only targeting some individuals in around 13 NGOs. For us, a threat against one organization is a threat against all of us," he said.
John Allan, a youth leader in Pibor, denied reports that the local youth plan to kick out humanitarian organizations operating in the Greater Pibor Administrative Area (GPAA).
"We are only dealing with some elements occupying jobs meant for the local youth in Pibor because if you can bring a driver from Juba and there are drivers here, then what do you mean?" he asked.
For his part, the GPAA chief administrator, Lokali Amae Bullen denounced the move taken by the local youth, saying they are working to defuse the tensions that had been building between aid organisations and youth demanding jobs.
"I heard NGOs started leaving. I have been in Juba for a meeting and I am planning to return to Pibor to resolve the issue," Bullen said.
Ragnhild Gylver, a communications adviser at the NGOs Forum, an independent coordinating body of national and international NGOs operating in South Sudan, said: "We are working on resolving the issue. The process is still ongoing. I think for the time being our priority is the safety of aid workers."
On Tuesday, the Humanitarian Coordinator ad interim in South Sudan, Matthew Hollingworth, strongly condemned the latest threat against humanitarian organizations in the Pibor area and called for authorities and communities to ensure the safety and security of humanitarian personnel.
"The consequences of these threats will impact the provision of critical services to people, such as urgent food assistance, health and nutrition services and protection support, among others. Without these frontline workers, all of whom are South Sudanese citizens, we cannot reach people with lifesaving aid and people's humanitarian needs will deepen," Hollingworth said.
According to the UN official, this latest incident of youth interference will impact response operations to more than 100,000 of the most vulnerable people in the Greater Pibor Administrative Area.
Since the start of the year, humanitarians have been threatened and attacked by youth in Renk in Upper Nile and Torit in Eastern Equatoria. These attacks led to the suspension of humanitarian activities and the relocation of workers.
"The worrying trend of threats and attacks by youth groups against humanitarians is unacceptable and must stop. I call on all parties, at all levels, to respect, protect and enable humanitarian action. This trend of targeting fellow citizens only works to delay and discourage the public and private development initiatives that we all wish to see working alongside relief efforts in the most vulnerable areas of the country," Hollingworth concluded.