NGOs conduct rapid humanitarian assessment in Yei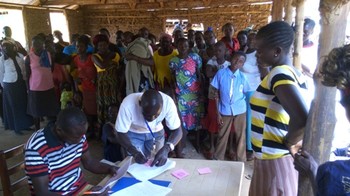 A number of NGOs operating in Yei River State has conducted a rapid humanitarian assessment among South Sudanese refugees who have returned to the area recently.
The objective was to understand the scale and severity of humanitarian needs among the returnees.
Earlier this week, Peter Butili Parajallah, chairman of the state relief agency appealed to humanitarian organizations operating assist the returnees.
A group of organizations including UNHCR, UMCOR, UNICEF, SSDO and Plan International started to conduct a rapid humanitarian assessment in the state.
"We are here to help these returnees because we have an official appeal from the RRC here in Yei that there are many returnees coming into Yei town who are in need of food, medicines and other basic assistance. So we are here and we will respond to their needs based on our capacity," one of the field officers working for UMCOR told Radio Tamazuj on Thursday.
Stephen Luga, program director of the South Sudanese Development organization (SSDO), said they have responded by providing non-food humanitarian aid to 863 returnees in the town of Yei.