NGOs arrive to Morobo County, Yei River state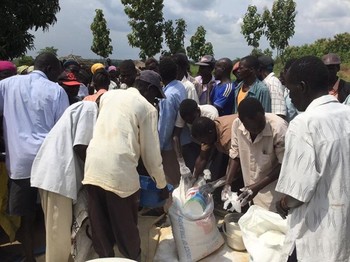 More than 10 humanitarian organizations operating in Yei River State have finally arrived in Morobo County for the first time since the outbreak of the conflict in July 2016.
Humanitarian organizations have been denied access to remote parts of Yei River State after the government security agencies alleged that the humanitarian organizations were supplying armed opposition forces with ammunitions, medicine and food aid. But the state governor David Lokonga Moses instead accused opposition forces of blocking the major roads in and out of Yei town.
The convoy of humanitarian organizations headed by the UNOCHA and other NGOs from all sectors including health, education, and agriculture took along emergency response aid packages to the vulnerable populations mainly women and children.
"We are already in Morobo county meeting with local government authorities including the county commissioner, women, community leaders and the citizens to assess the most immediate needs of the population and after a short while we will bring aid to the suffering poor," one of the team officials who preferred Anonymity told Radio Tamazuj on Thursday.
Peter Mambu, a local resident of Morobo town, said that they only need basic needs to survive.
"We have seen the NGO convoy with their land cruisers speaking to a number of people on the needs of the people here. What I want to say in summary is that, the hopeless population needs food, medicines and shelter carpets so that we can start another new life," Mambu said.
Last week, President Salva Kiir issued a presidential order directing all the state governors and their security units operating in government-controlled territories to allow free humanitarian access after mounting pressure from both local and international humanitarian actors.