Ngok Dinka conference calls for massive return by June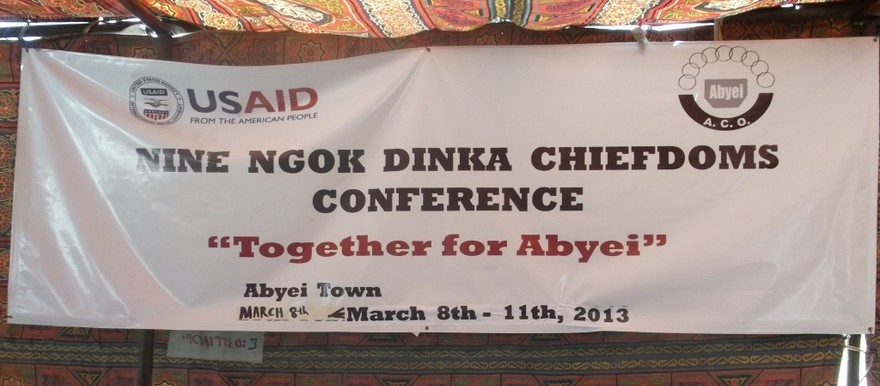 Delegates representing the Ngok Dinka people at a four-day conference in Abyei town have called for massive return of displaced members of the tribe to the disputed border region before June this year.
An estimated 110,000 people were forced to flee the border region in 2011, and are hindered from return by fears of insecurity, lack of basic services and lack of governance structures.
The 'Ngok-Ngok dialogue' conference was held in Abyei town 8-11 March with support from the foreign aid agency of the United States of America. Conference delegates represented the nine Ngok chiefdoms of Abior, Achaak, Achueng, Allei, Anyel, Bongo, Diil, Manyuar, Mareng, as well as civil society organizations.
The official communiqué read out at the end of the conference "calls upon all the Ngok Dinka people to unconditionally and voluntarily return to Abyei through massive mobilization and organization efforts before June 2013 to register and exercise their rights for self-determination in Abyei Area in the upcoming referendum."
Abyei's referendum exercise was originally agreed between the Sudan government and the Sudan People's Liberation Movement in the 2004 Abyei Protocol, which became part of the overall peace deal finalized by early 2005.
Repeated failures to carry out that agreement and the military crisis in the region in early 2011 led the UN Security Council to pass resolution 2046 demanding the cessation of hostilities, withdrawal of all armed forces, and resumption of talks on the final status of the disputed area.
In their communiqué yesterday, the conference delegates appealed to the African Union and UN Security Council to re-commit themselves to following up the proper implementation of the UN Security Council resolution, the Abyei Protocol and the AU High Level Panel proposal on holding a referendum in the area.
Lt-Gen. Tadesse Werede Tesfay, Force Commander and Head of the UN Mission in Abyei (UNISFA), spoke at the closing of the event. He said the conference was about "development, about peace, about basic social service and about basic human needs."
"UNISFA is here to maintain the sanctity of Abyei from any armed incursion and even gradually to create armament-free Abyei," he said, adding that peace would provide the basis for addressing basic needs. "Peace is the priority. So once again I'll be happy to assure you, as far as UNISFA is here, peace will prevail in Abyei."