New youth minister in Aweil East takes oath of office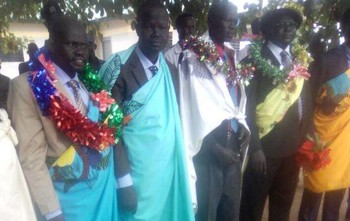 The newly appointed minister of social development, youth, culture and sports, Daniel Akol Diing took oath of office on Monday afternoon.
Akol told Radio Tamazuj on Tuesday he took oath of office of ceremony at ceremony attended family members, relatives, colleagues including minister of education, Martin Kiir Majok.
He further said the swearing in ceremony was done at the Council of Ministers in Malualkon on Monday afternoon.
"I am humbled to have it done. After all we will strive to serve the elderly, children, disable, orphans, gender balancing and religious affairs among many others including child protection," said Akol.
The new minister said his vision is to see the whole Aweil East and South Sudan in general united and speaks with one voice, saying divided leadership does not deliver without support of the people.