New Yei Governor promises peace and security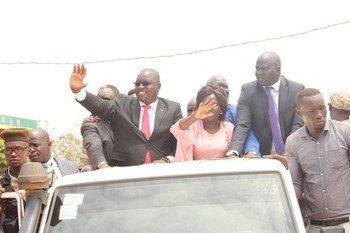 Yei River State Governor Emmanuel Adil waving to residents in an open car in Yei town.jpg Radio Tamazuj
The newly appointed governor of Yei River State has promised to promote peace, unity, security and rule of law for the citizens of Yei River State.
Governor Emmanuel Adil Anthony was appointed barely a fortnight ago to replace David Lokonga Moses who was sacked in a presidential decree over unknown reasons.
Addressing hundreds citizens gathered at Yei Freedom Square on Wednesday, Adil said his tenure in office symbolizes a new era of peace and security in Yei.
"The time to love one another, promote peace as one people is now. My priority will put peace security and rule of law as top agenda. For this to happen I want us with the security organs to ensure safety and protection of the civilians and their properties of this state and a nation," he said.
Jeska Gire a resident of Yei town appealed to the new governor to prioritize peace saying it is the only way for citizens like her to start re-building their lives.
"I am very happy because we have received a new governor. What I expect from the new governor is that our suffering should come to an end. Women in Yei have experienced rape, torture and restricted access to our farm lands. We want the governor to restore peace and protection," she said.
Since the outbreak of the conflict in July 2016, thousands of residents in Yei River State have either fled or witnessed rampant violence, extrajudicial killings and theft.