New Yei Bishop asks security to allow him visit people in the bush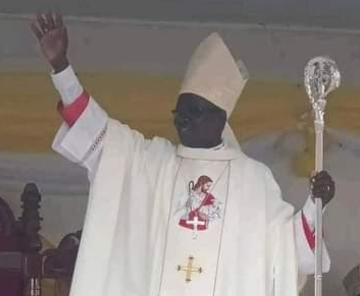 Bishop Alex Lodiong Sakor. (Radio Tamazuj photo)
The newly consecrated bishop of the Catholic Diocese of Yei has appealed to security organs in the county to allow him access to people in the bushes.
Bishop Alex Lodiong Sakor, made the appeal while addressing the congregation last Sunday citing that there are many Christians who want to fulfill the Christian sacraments.
''I would like to appeal to the security people here and those listening to us through the radio; give me a window to travel to see our people who are in the bushes. I want to visit each one of them," he said. "There are so many of them, their children have grown, they have not been taught catechism, they are not baptized, they are not confirmed and they want baptism and confirmation. Give me the chance to go and see them. I go there for faith, not anything."
Bishop Emeritus Erkolano Lado Tombe, the first bishop of the Catholic Diocese of Yei, said the people should be courageous in faith despite the difficulties they have gone through.
"I simply say to us, including myself that do not be afraid. God is with us. You can see the cardinal and Nuncio are here with us, the government is here with us and you can see the solidarity of so many people standing with us. They understand our sufferings of all these years and so do not be afraid," he said.
He added: "Despite the loss of our religious leaders like Sister Veronica and all the parishes that have been destroyed, apart from Christ the King Parish, we stood up with faith and that cannot stop us from working with the new bishop for more than 20 years."
The Archbishop of Khartoum, Michael Didi, encouraged the Christians to support the new Bishop.
"You have to help him (Bishop Lodiong) so that he serves you. If you want good work, you do good yourselves. I hope I will come to Yei again because it is my first here," he said.
The Apostolic Nuncio to Kenya and South Sudan, Herbertus Van Megan, encouraged the people of the country to embrace love and commitment to take the country forward.
"We need to be people of love, we need to be people of commitment, we need to be people who together put our shoulders on this country which is South Sudan, and move forward," he said. 
Over 8 bishops including the principal consecrator, His Eminence Cardinal Gabriel Zubeir Wako, and Archbishop Stephen Ameyu Martin Mula attended the consecration of the Bishop Lodiong.