New state-owned oil company head welcomes his appointment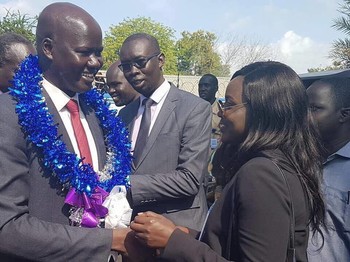 File photo: Chol Deng Abel during his reception at the office on Thursday following his appointment. (Radio Tamazuj)
The newly appointed managing director of the state-owned Nile Petroleum Company (Nilepet) has welcomed his appointment by President Kiir, describing it as a privilege.
"As you may have heard and read it in the news, I would like to confirm to the public, especially people outside the country my appointment and acceptance of the assignment," Dr. Chol Deng Abel told Radio Tamazuj yesterday.
"It comes with pride and honour to serve the people and the country when the authority of the country has decided to give you a task. Therefore, I would like through this opportunity to register my sincere thanks to the president for the trust he bestowed upon me," he added.
Chol succeeds James Thelweng Mathiang Rok who was fired by Kiir on Wednesday night. He had served as deputy managing director of Nilepet.
Chol was born in Malakal in 1976 and went to Khartoum where he sought and pursued studies at the University of Khartoum in Sudan, where he graduated in 2002 with a bachelor degree in Civil Engineering.
In October 2007, Chol was awarded a scholarship from the Joint Japan/World Bank Graduate Scholarship Programme to study at UNESCO-IHE where he obtained a Master of Science in Municipal Water and Infrastructure. In March 2010, he started his PhD study.