New South Sudan army chief sworn in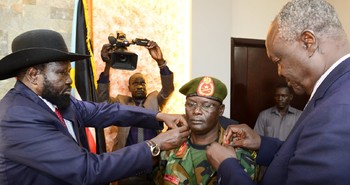 Photo: Gabiel Jok Riak being promoted by President Kiir before swearing in as new chief of general staff on May 4, 2018.
General Gabriel Jok Riak has been sworn in as the new SPLA chief of defense forces by President Salva Kiir during a ceremony at J1 today, May 4.
General Riak replaces late army chief James Ajongo who died in Egypt last month.
Speaking the swearing-in ceremony attended by top officials, President Kiir urged the top army generals to cooperate with the new army chief to formulate policies and plans for the army.
The South Sudanese leader emphasized the importance of reforms and welfare of government troops by paying them monthly.
He explained that Gen. Jok was appointed based on his seniority in the SPLA army.
For his part, Vice President James Wani Igga thanked President Kiir for appointing Gen. Jok as the new army chief. He urged the new army chief to engage the army in food production to realize self-reliance.