New rebel group emerges in South Sudan near Sudan border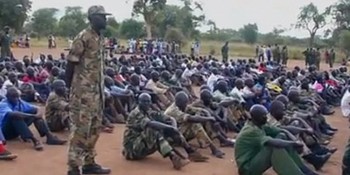 File photo: Members of the Sudanese rebel group undergo training.
An SPLA officer who hails from Pariang in Ruweng state said he commands a new rebel movement that will seek to overthrow President Salva Kiir.
Brig. Gen. Zachariah Monyjiek Baguot Kiir, a defected army general, accused President Kiir of waging a "tribally engineered war" and failing to deliver services to the people of South Sudan.
Baguot told Radio Tamazuj on Friday that the new rebel group calling itself South Sudan United Liberation Movement/Army is fighting for unity of the people of South Sudan. "I was in the SPLA army but I defected, so now I am at the border with Sudan," he claimed.
The rebel leader accused the current government led by President Kiir of deviating from the spirit of the Sudan People's Liberation Movement. "We want to fight for the rights of the people of South Sudan so that they can choose their leaders democratically," he said.
SPLA spokesman Lul Ruai Koang could not immediately be reached to comment on Monyjiek's declaration.