New leader of SPLM youth wing assumes office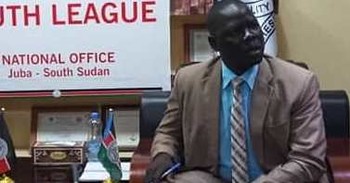 The new chairperson of the SPLM Youth League Daniel Abocha Ali assumed office in the capital Juba on Thursday.
On 24 August, President Kiir removed the interim leader of the SPLM Youth League Emmanuel Lubari Joseph and appointed Daniel Abocha Ali as the new leader of SPLM youth wing.
Welcomed to the office premises by the outgoing chairperson, Ali promised to work together with his colleagues to transform the ruling SPLM party. "We will work together to move from where my brother Emmanuel stopped," Ali said in a statement to state media.
"I want to thank you my comrades for the warm welcome accorded to me in the office," he added.
For his part, the outgoing chairperson Emmanuel Lubari said they had assessed the assets in the office before the new leader assumed office. "I am very happy with the transformation we did with my colleagues," he said.