Negotiators say peace talks making progress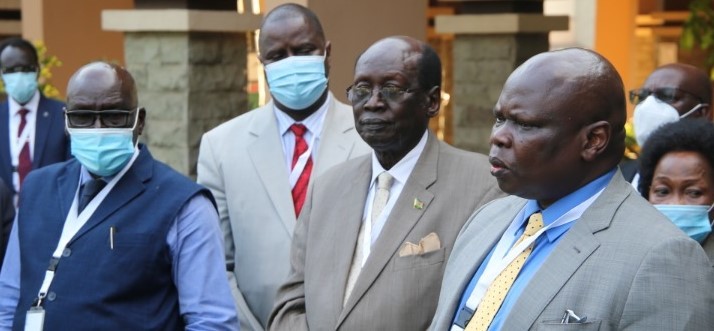 Peace talks between the South Sudan government and a faction of the opposition movements alliance that are currently underway in Kenya have made progress, a mediator said.
"We are working on a declaration of principles and we have already agreed on most of the issues in the declaration of principles," Paolo Impagliazzo, secretary-general of Sant'Egidio, told a press conference in Naivasha, Kenya on Wednesday.
The talks between the government and the South Sudan Opposition Movements Alliance (SSOMA) faction led by General Paul Malong and Pa'gan Amum are facilitated by the Rome-based Sant'Egidio Community in coordination with the government of Kenya.
The holdout opposition faction is made up of two organizations, the Real Sudan People's Liberation Movement (R-SPLM) and the South Sudan United Front/Army (SSUF/A).
Mr. Impagliazzo expressed his optimism for finding a solution to the political crisis in South Sudan and said that they are very positive that the talks will be concluded with a peace agreement.
Pa'gan Amum, leader of the Real Sudan People's Liberation Movement (R-SPLM), said they had two days of talks saying progress has been made toward agreeing on a declaration of principles that would guide details of negotiations.
"I am happy to report to you that we have actually made a lot of progress. About 95 percent of issues in our agenda we have covered them and agreed on them," Pa'gan said.
According to the opposition politician, this round of talks is expected to conclude with the signing of a declaration of principles. "We promise our people that we will leave no stone unturned until we solve all the outstanding issues so that we can have peace," Pa'gan said.
Gen. Paul Malong, leader of the South Sudan United Front/Army (SSUF/A), said both sides agreed that there is a need to find a solution to the problems facing South Sudan. "We have been trying to find a way how we can come together and resolve our problems. So, the issue has taken us two days in Naivasha," Malong said.
For his part, Barnaba Marial Benjamin, the head of the government delegation to the peace talks reiterated their commitment to bring peace to the people of South Sudan. "We will do our utmost in order to bring peace to our people who have been yearning for stability," Marial said.
The government chief negotiator thanked the Community of Sant'Egidio, Kenya, Uganda and the region for helping South Sudan to achieve peace and stability.
The peace talks that began on the 8th are scheduled to conclude on the 12th of March.
On Monday, both sides recommitted themselves to a cessation of hostilities agreement signed on December 21, 2017. They also agreed to continue the political dialogue to address the root causes of the conflict to achieve sustainable peace in South Sudan.