Nearly 60,000 women suffer from fistula in South Sudan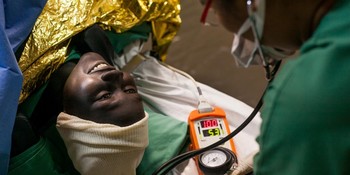 File photo: Isabel Corthier/MSF
Nearly 60,000 women are suffering from obstetric fistula in South Sudan out of which only 750 cases were treated, according to a health official.
Obstetric fistula is a disease most common among women that accounts for up to 8 percent of deaths worldwide and is caused by difficulties during child birth.
Acting Director of Maternal Health at South Sudan's Ministry of Heath, Agum Issac Daniel, told Radio Tamazuj on Tuesday the ministry had carried out about 40 fistula operations at Awiel Civil Hospital and 30 cases at Juba Teaching Hospital in April.
She further said most of the patients suffering from the disease are undergoing stigmatization from their family members. The health official urged communities to help the women who are suffering from fistula to help them seek medical attention.
"I call on the society not to abandon the women who are sick with fistula, but instead treat them normally. Most of them are now being abandoned and even ignored by their husbands," she said.
Speaking yesterday during the occasion of the International Day to End Obstetric Fistula, Agum urged all women suffering from the condition to come out and seek treatment at the nearest health facility.
She pointed out that since 2005, they operated over 750 women with obstetric fistula across the country with a 90 percent success rate.