Nearly 14,000 South Sudanese refugees fled to Ethiopia in two months: official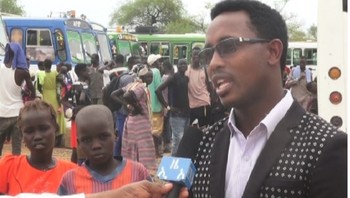 ENA photo
Nearly 14,000 South Sudanese have crossed to Sudan's Gambella region in the past two months due lack of security in the country, the Administration for Refugees and Returnees Affairs (ARRA) said.
ARRA Program Coordinator in Gambella, Legesse Driba told Ethiopia's News Agency (ENA) that the number of South Sudanese refugees in Ethiopia is growing.
Driba said the new arrivals are being sheltered at Gupyel Refugee Camp in the region.
The official further said more than 2,000 refugees are currently provided with temporary shelter at Pamdong temporary shelter and efforts are being made to transport them to Gupyel Refugee Camp.
He pointed out that huge influx of South Sudanese refugees had complicated the provision of humanitarian aid and called on the international community to support efforts that are being made by the Administration.
Driba said most of the refugees have families with children.