NCTTCA to boost cross-border trade by opening road networks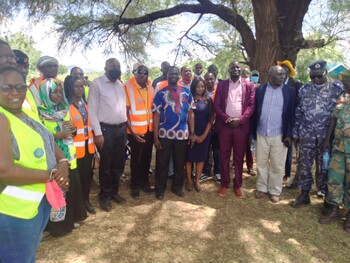 Northern Corridor delegates with Eastern Equatoria State government representatives in Nadapal, 5 October 2021. [Photo: Radio Tamazuj]
The Northern Corridor Transit and Transport Coordination Authority (NCTTCA) has resolved to boost cross-border trade following a meeting with the Eastern Equatoria state government at the Nadapal border between Kenya and South Sudan last Friday.
The NCTCCA is an intergovernmental body encompassing six countries in Eastern Africa, tasked with coordinating transport infrastructure improvements. South Sudan joined the body in 2012.
Speaking during the meeting in Nadapal, NCTTCA's Mr. Emili Muzbe said: "We are here now to survey the South Sudan side (of the Northern Corridor) and we are delighted that they had the highest authority of this state present so that they can be our ambassadors with the central government for the efforts that we have deployed to open up the potential of the region in terms of trade facilitation."
Muzbe added that after the mission, they will compile a report and submit it to policymakers with suggestions and recommendations to address transport issues along the borders.
Meanwhile, the deputy director for infrastructure and management at Northern Corridor, John Deng Diar said they are focusing on making South Sudan attractive for investment and trade.
"We want to make South Sudan attractive, we want to cut down the cost of doing business for the welfare of our people. What is important on our side is to ensure that this road is developed it meets the standard of the counterparts," Deng said.
For her part, the minister of trade and industry in Eastern Equatoria state Ruth Mario Vuga said: "This Nadapal road is going to benefit South Sudan as a state. We have a lot of borders and it is good for us to open the roads to connect not just the neighboring countries but also to connect Africa in terms of trade. I just want to assure you that the government of South Sudan is concerned about the security and the safety of not just the citizens but everybody in South Sudan that is why you have seen there a lot of deployment in Nimule road to make sure that people are safe and the traders including everyone is safe."
Patrick Oting Cyprian, the Eastern Equatoria State government spokesperson says the Nadapal Border will help to boost the economy of the state and South Sudan at large.
He said the government has deployed soldiers at the border to provide security for traders and those working on the Nadapal road.
The NCTTCA covers Kenya, Uganda, Rwanda, Burundi, South Sudan, the Democratic Republic of Congo, Tanzania, and Ethiopia.