NBeG flood displaced complain of lack of services; question state tax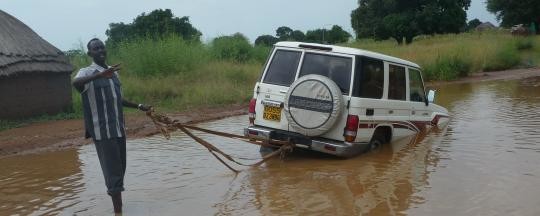 Flood-affected residents in Northern Bahr el-Ghazal state who were temporarily transferred by authorities to the area of Riang-Aluel Weng last year, have complained that they lack any land on which to cultivate.
In an interview with the residents on Tuesday, Mou Kuan Anyar told Radio Tamazuj they lack land for cultivation, schools, health centers or a road to link their area with the state capital, Aweil.
Nyandeng Majak also complained of a lack of economic opportunity. Claiming that her husband spent two weeks in the bush cutting firewood and producing charcoal and earning only 70SSP claimed that she is so frustrated with the low quality of life.
"I thought the independence of the south Sudan would result in positive things (but) I don't see the difference from those days of Bashir's leadership with Kiir's leadership," Nyandeng claimed.
Amel Kong is a mother of six children who posed the question: "Why (does the) government let my children suffer like this as if they are not (the) future of this nation, no education for them, no treatment like before when they were at Makuac Awit?"
She stressed that last year the government promised to construct water drainage systems to be dug in order to prevent the flooding but so far this has not been completed. She further complained that her family lacks adequate shelter from the rain because they cannot afford to buy tarpaulins to cover the tukul that she had build.
Meanwhile two youth, who asked to remain anonymous, said they were unable to join school this year due to lack of secondary schools in the area. To do so, they would have to walk for four hours to and from Aweil center each day.
"What is the money that was collected from every household used for? Government have arrested people who failed to pay the money and look, they failed to deliver the services. Does it mean that no one that can arrest the government?" the students asked.
Two months ago, the state Director of Physical Infrastructure Aguer Doordit announced that his ministry lacked necessary funds to buy the heavy machinery required to dig the water drainage networks or to rehabilitate the roads linking state capitals and remote areas like Riang-Aluel Weng.
Meanwhile Deng Ayom, head of physical infrastructure in the state parliament, claimed: "In Riang-Aluel Weng, we allocated 1390 plots measured 25x20m to each family and there is enough land outside the small area we surveyed for individuals to cultivate because there is no land restrictions. Land is open to everyone who needs to cultivate."
Deng explained that inadequate funds have delayed a lot of essential work but that the state government will try their best, alongside other partners, to link remote areas with the capital.
"I was just out of the ministry of infrastructure and I found that they (have) contracted Ayat Company to dig up water channels to avoid flood that area," Deng added.