National youth conference concludes in Juba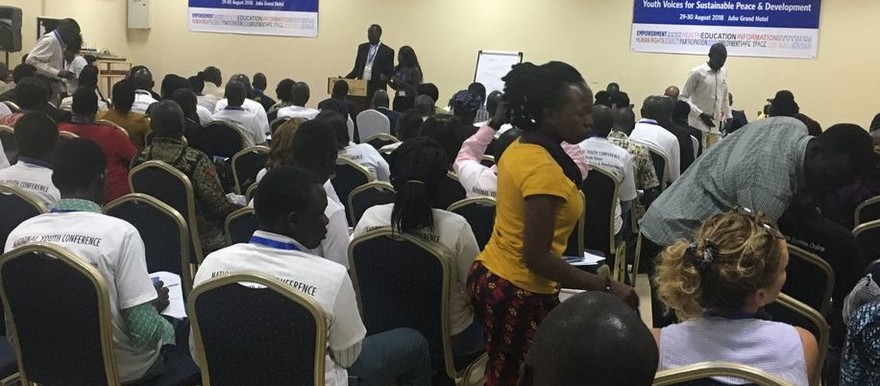 A two-day national youth conference held in the capital Juba under the theme" Youth Voices for Sustainable Peace and Development" has concluded today.
The event brought together young people from across South Sudan to exchange views and to discuss issues that are important to them and the nation. The conference was organized through the collaboration of the Ministry of Culture and Sports, the United Nations in South Sudan and national youth organizations and networks.
In a press statement after the closing session, the Undersecretary of the Ministry of Youth and Sports, Agum Riiny Mabeny lauded the active participation of youth people in the conference, pointing out that South Sudanese youth cannot be ignored in development.
"Such conferences are important for the youth because we want to urge them not rely on the government in everything. As youth, you can do something without the government. It is also important for us to know the challenges facing the youth," she said.
Education Minister Deng Deng Hoc said in his speech during the opening session on Wednesday the government is committed to promote peace, reconciliation and social cohesion. He urged the youth people not allow themselves to be used to wage senseless wars.
"We therefore need a partnership of peace that is ready and committed to implement the revitalized peace agreement in good faith," he said.
For his part, the President of National Youth Union Albino Bol Dhieu stressed the importance of effective participation of youth people in governance and peace. The youth leader further said there is need for investment in youth through education and development projects.
Meanwhile, the Deputy Special Representative to the UN Secretary General in South Sudan, Alain Noudéhou said with the immense efforts needed to bring back peace to South Sudan and plan for development, the participation of the largest demographic group in decision-making and planning processes is absolutely critical.
He further said the present and future of South Sudan rests upon the shoulders of young people. "It is therefore crucial to include them in peacebuilding and development discussion, hear directly from them regarding their aspirations, about their concerns and more importantly about their vision for the future of South Sudan," he said.
"In planning for the future of this country, we simply cannot ignore the youth. This large population of young people offers a tremendous opportunity for economic growth and development," he added.