National security cancels permit for peace revitalization forum in Juba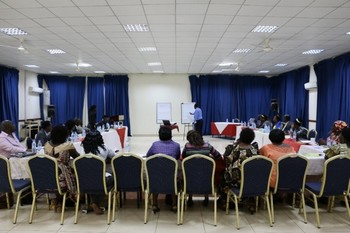 File photo: Civil society meets to form a transitional justice working group. (UNDP)
South Sudan's National Security Service (NSS) on Wednesday cancelled a permit granted to the Transitional Justice Working Group (TJWG), a coalition of civil society organizations, to organize a discussion forum on revitalization of the peace process today, saying the topic is sensitive.
The forum was supposed to take place at Quality Hotel in Juba under the theme, "Revitalization of the Peace Agreement: Updates and Civil Society Perspective."
The civil society groups told Radio Tamazuj this afternoon that today's forum was cancelled due to security reasons. They further said they were not granted the permission by national security officials to conduct the discussion forum on the revitalization of the 2015 peace accord, saying this particular topic is sensitive to be discussed.
Jameh David, Executive Director of the Foundation for Democracy and Accountable Governance, said they didn't know that a very important topic on the peace process could lead to a security concern in the country.
"We thought that the idea of revitalization could be an opportunity for people to speak out and for people to be able to look back and see the challenges that faced the implementation of the peace agreement," he said.
"When we submitted the application, we were advised that the topic was not appropriate. There was no any reason given but we for us we thought that it is an opportunity to inform the agenda of the revitalization process," he added.
The civil society activist pointed out that they had invited representatives from the international community, JMEC, civil society organizations, donors and South Sudan Human Rights Commission to attend the forum.
In June, leaders of East African regional bloc IGAD at a summit meeting held in Addis Ababa called for the revitalization of the 2015 South Sudan peace accord, saying the agreement was the only solution for the conflict.
IGAD is an eight-member economic bloc that brings together Ethiopia, Djibouti, Somalia, Sudan, Eritrea, South Sudan, Kenya and Uganda.