National security arrest presidential guard officer linked to Malong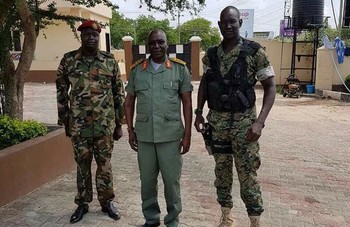 File photo: Lual Akeen (Right) standing with former army chief Paul Malong (middle). (Radio Tamazuj)
South Sudan's National Security Service arrested a presidential guard officer linked to the former SPLA chief of general staff Paul Malong, sparking tension between the two institutions and family members.
First Lieutenant Lual Akeen Akeen Akec was last week arrested by the national security service in an unknown location. No one knows his whereabouts since the arrest was made.
Security officers with direct knowledge and relatives who spoke to Radio Tamazuj have provided conflicting accounts surrounding the reason for the arrest.
Security officers claimed that Akeen was arrested for shooting and injuring a colleague who allegedly celebrated the removal of Paul Malong from his position, sarcastically saying the King of Mading Aweil has now been stripped of influence.
However, relatives claimed the officer was arrested as part of the grand strategy and policy to weed out from the presidency influential officers and soldiers who are still maintaining close ties with Paul Malong.
"All these allegations are untrue. Lual did not shoot anybody, what happened and this is what is being twisted to suit the interests of the propagators is that he was actually the one who wanted to rescue the colleague who was derogatory and sarcastic from being shot by other colleagues," said one of the relatives.
"But because he was being targeted, they decided to arrest him and took him to an undisclosed location by relatives of Akol Koor Kuc," he added.
But a security officer with the direct knowledge of the case denied claims that the officer was targeted. He explained that Lual was simply arrested for personal safety to avoid the incident turning into an inter-communal feud.
"I urge the family and friends to remain calm as we figure it out where they have taken him to and why," a parliamentarian in Juba from Aweil East state said on Tuesday.
Akeen, who serves in the external branch of the national security service, was attached to the president's close protection unit. He is a relative of the ousted army chief Paul Malong.