National security arrest Paul Malong's top aide in Juba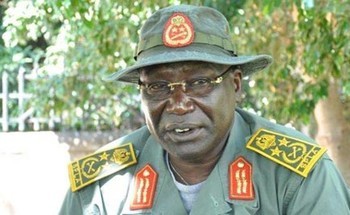 File photo: General Paul Malong Awan
South Sudan security operatives have arrested a security officer linked to the former SPLA Chief of General Staff General Paul Malong who is reportedly under house arrest in Juba.
Lieutenant Colonel Dut Yai Anyar was last week arrested by national security officials for unclear reasons. Dut was the executive director in the office of General Paul Malong Awan when he was the army chief.
A relative, who preferred anonymity, told Radio Tamazuj yesterday that Dut was arrested after refusing to accept a new assignment to abandon Paul Malong.
"Dut was not planning anything. He was just staying with General Paul and this is what they do not want. They want General Paul to be abandoned," he said.
Another relative said Dut was arrested at Hai Commercial last week. He claimed that the officer was accused of supporting Paul Malong.
"Dut cannot cut ties with Malong because he is a relative to General Malong. They are from the same family, so Malong is like his uncle," another family member said.
Dut was among the officers and soldiers who left Juba together with General Malong and returned together with him when he could not go to Aweil in May shortly after being removed from his position.
Some of the officers, including Brigadier General Jel Mangok had accepted a new assignment outside Juba but Dut declined.
In May, First Lieutenant Lual Akeen Akeen Akec was also arrested for allegedly supporting Paul Malong. No one knows his whereabouts since the arrest was made.