National security arrest AP cameraman in Juba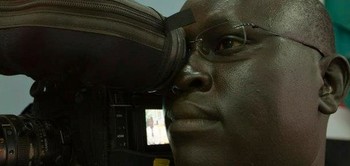 File photo: Gatdet Chuol Riek
South Sudan National Security Service on Monday arrested a freelance cameraman working for the Associated Press after being summoned.
Gadet Chuol Riek, a freelance cameraman working for AP, was reportedly arrested over his recent trip to a rebel-controlled territory in Upper Nile region.
A source told Radio Tamazuj this afternoon that Gatdet was detained after being summoned by National Security officials.
"Last Tuesday, Gatdet was summoned but he returned home in the evening. He was summoned again last Thursday but returned home. On Monday, he did not return home after being summoned again," he said.
"We do not know Gatdet's whereabouts in Juba until now. He was summoned because he travelled to Akobo together with other people for work purposes," he added.
Government information minister Michael Makuei Lueth could not immediately be reached for comment.