National Revenue Authority unveils new financial form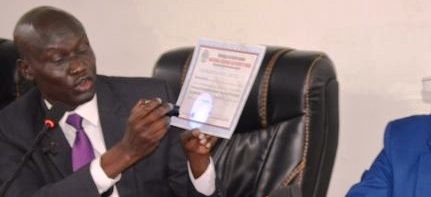 South Sudan's National Revenue Authority (NRA) has introduced a new financial form to replace the previous Form 15.
The new form seeks to combat fraud in the collection of non-oil revenues.
Speaking to reporters in Juba on Thursday, the Acting Commissioner for Domestic Tax Revenue, Albino Chol Thiik said the new financial form is very important for collection of government revenues.
"The previous form we were using was subject to forgery. Anybody could forge it, that's why we decided to change the previous financial form to a new one," Thiik said.
He added, "The new financial form has some features you cannot see with naked eyes. There is a machine and when the form is held up against light, you will see features indicating it is the true financial form".
The new financial forms introduced by NRA include, Tax Clearance Certificate, Clearing Agent License and Tax Registration Certificate.
The new forms, which bear the logo of the revenue authority when placed against a machine, shall be used by various institutions for revenue collection.
The introduction of the new financial forms follows several years of complaints from the public over the issuance of receipts without official stamps by people who claim to be working for the revenue body.