National NGO trains 20 women on GBV reporting in Warrap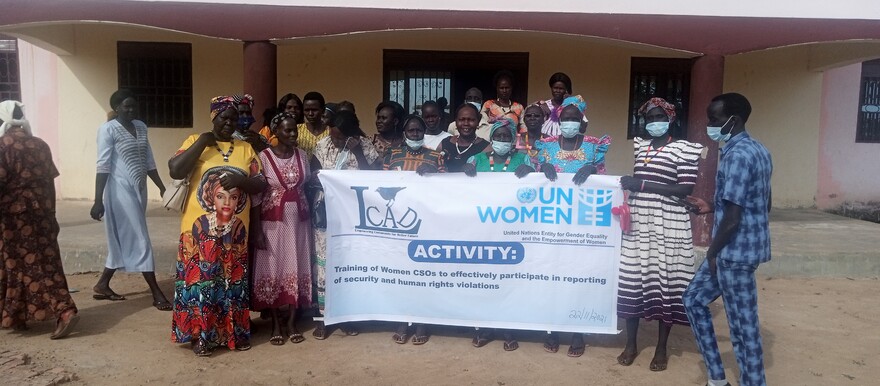 Women who participated in the LCAD training to effectively report on security and human rights violations at the Women Centre in Kuajok, Warrap State on 22 Nov, 2021. [Photo: Radio Tamazuj]
The Lukluk Community Association for Development (L.CAD), a national non-governmental organization, on Monday, trained about 20 women activists in Kuajok town of Warrap State on how to report all forms of violence against women and girls.
The one-day training examined numerous issues including rape, domestic violence, forced marriage, women's presentation, and women challenges in both the public and private sectors among others.
Ayei Akol Ayii, L.CAD area manager said the training was to empower women about human rights and their rights in the revitalized peace agreement. 
"These women were brought from different groups in Warrap state and trained on how to effectively report security and human rights violations in their working places because some women and girls may have experienced different forms of violence and the lack of technical reports,  fear of cultural taboos contributed to women suffering in silence," he said.
Angelina Aguek Lual, one of the participants said domestic violence occurs even between couples but the training has helped them understand how such cases can be reported. 
"Forced marriage is rampant together with forced sexual practice even between couples at home. Women suffer forced sexual intercourse with their partners and men also elope girls unilaterally without parents and girls consent," she added.
Mary Noya, another participant said, "I learned how to report issues of insecurity like in Tonj, we have bad security situation so we need to have good relations as neighbors and talk to our children to stop killing themselves. This will contribute to improving security in the state." 
William Deng Mayar, the director of religious affairs in Warrap State's Ministry of Gender, Child, and social welfare appreciated the organization for training the women and assured that the state government is looking into women's representation as per the revitalized peace agreement. 
"As the ministry representative, I appreciate L.CAD and its donors for supporting women's projects. I have listened to the women. Their issues of inadequate representation is on the governor's table and should be addressed jointly with parties to the revitalize agreement so that 35% of women affirmative action is implemented" he said.