National MPs start registration to swear in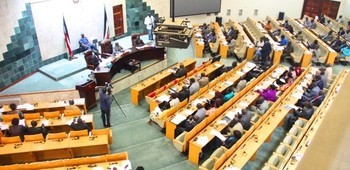 The clerk to the Reconstituted Transitional National Legislative Assembly on Monday wrote to all the newly appointed members of both the upper and lower houses to register with the august house within a week after which they will be sworn in.
According to the clerk, those members whose appointment was revoked through a presidential decree will not be registered.
Speaking to Radio Tamazuj on Tuesday, Makuac Makuac, said the registration process will continue for five working days, adding that if they record three-quarters of the members, they will then write to the office of the president to alert him that they are ready for swearing-in.
"After that, the president will issue a letter identifying the date and the procedures of sitting and the inauguration before the sitting takes place. The first meeting will be for electing the speakers and then they take over and then they wait for inauguration when the president will come and deliver his speech," Makuac said.
The clerk urged the public to remain calm, saying the two houses of the national parliament will commence business soon.
"My message to the public is that the parliament is going to open very soon. This parliament will provide a conducive environment for the lawmakers while doing their duties especially in the coming first session because it is vital to have peace in the country. We must make sure that the assembly functions," he added.
The Executive Director of the Community Empowerment for Progress Organization (CEPO), Edmund Yakani, reminded the parties of the allocation of the parliament's leadership per the peace agreement.
"The speaker of the legislative assembly belongs to the incumbent government, it is their delegate who will occupy the seat in the parliament, and they will appoint the speaker. The similar thing will be to other parties (opposition) that will take the deputy speakership, chief whip, and chairperson positions of specialized committees," Yakani said.
The Revitalized Transitional Government of National Unity (RTGONU) has been without its legislative arm since May when the two houses were dissolved.
Early this month, President Salva Kiir Mayardit reconstituted the Council of States, the upper chamber of the national legislature in the country.