ADDIS ABABA -
16 Mar 2018
National dialogue: South Sudanese in Ethiopia say Jieng Council of Elders must be dissolved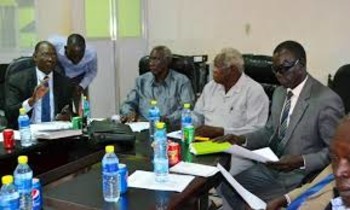 South Sudanese participating in the national dialogue process in Ethiopia demanded the Jieng (Dinka) Council of Elders be dissolved, a national dialogue's subcommittee said.
Dinka Council of Elders is not a group of traditional Dinka leaders but a group of mostly veteran politicians who advise President Kiir on political issues.
According to a report by the national dialogues subcommittee on refugees on Thursday, over 250 South Sudanese stakeholders said the Jieng Council of Elders should be dissolved, and then replaced with a new council of elders representing all tribes of South Sudan.
The subcommittee further said its first consultative session found that the stakeholders accountability, independence of judiciary and devolution and fogginess.
It pointed out that the participants emphasized the need for revitalization of the 15 peace agreement and good governance.
In November 2017, South Sudanese refugees in northern Uganda also said they were unhappy with the role played by the Jieng (Dinka) Council of Elders in the country.
But Josha Dau, a member of the advisory body, defended the role of the tribal advisory group in a previous interview with Radio Tamazuj, claiming the body has been working to unite the people of South Sudan.
In December 2016, Kiir launched the national dialogue initiative that seeks to reconcile and unite the East African nation torn apart by more than four years of civil war.