National dialogue's subcommittee on refugees travels to Khartoum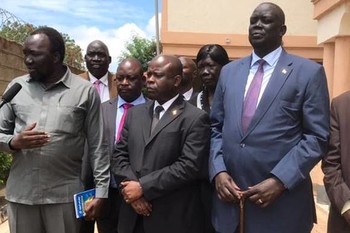 South Sudan's national dialogue subcommittee on refugees and international outreach has travelled to Khartoum today to consult with South Sudanese refugees living in various locations in Sudan and thereafter, the subcommittee will proceed with the same to Ethiopia.
In a statement extended to Radio Tamazuj today, the subcommittee on refugees appealed to South Sudanese living in Sudan and Ethiopia to contribute with their own ideas towards the process and agenda of the national dialogue wilfully, genuinely, clearly and freely.
The subcommittee assured that no one will be intimidated for speaking in a National Dialogue conference, saying this has been clearly evident its consultations with South Sudanese refugees and other stakeholders in Uganda and Kenya.
The group pointed out that the consultative visit to Sudan and Ethiopia aims at ending political crisis and communal violence through dialogue in the country,
It added that they plan to consult with all the stakeholders on different views, opinions and grievances on the agenda for the national dialogue.
According to the statement, the subcommittee said it wants to redefine and re-establish stronger national unity, including redefining citizenship, belonging, residency and political participation.
The subcommittee on refugees and international outreach plans to conduct consultations in Sudan and Ethiopia for at least 17 days before coming back to the capital Juba.