National dialogue a 'waste of time,' says Catholic bishop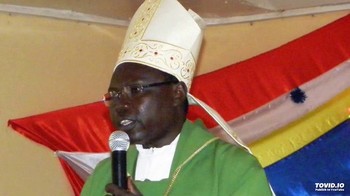 File photo: Bishop Santo Laku Pio
The Auxiliary Bishop of the Catholic Archdiocese of Juba has on Sunday during his homily blasted the national dialogue strategy to make peace in the country as a "waste of time."
"The problem is political and it has to be solved by the political leaders. Riek Machar, Salva Kiir, Lam Akol and whoever has taken up arms, so they are the ones to discuss and bring peace," said Bishop Santo Laku Pio.
He further said the people of South Sudan have not yet caused any problem. "The ordinary citizens have not yet created any problem, that's why our faithful citizens are able to stay for three months without salaries and they don't even demonstrate. They still go to work, you will never see this in any country in the world," he said.
"But time will come; time will come when we shall say enough is enough. That time is going to come, but as for now, our citizens have never rebelled against the country, they have never rebelled against the government. It is the government itself that is on rebellion by itself," he added.
The outspoken religious leader blamed South Sudan political leaders for failing to find an amicable solution to the going conflict in South Sudan. "Instead of solving the political problem of this country, national dialogue is thrown to us because it is a church thing nobody should refuse, I don't refuse the national dialogue but it is wrong, it is not good to cheat the poor people," he said.
Bishop Laku accused South Sudan politicians of causing conflicts among communities. "The leaders go to instigate other communities saying you are hated there you are hated here and then people begin to develop anger for no reasons," he said.
The religious leader said South Sudan is facing a catastrophic humanitarian crisis driven by the ongoing civil war, criticizing reports that there is no hunger in the country.
"Go to the families, go to the families and you will see what children are having on their table if there is any table at all. So the suffering is great and I think we need people who have hearts. I don't know do you have hearts? I don't know because I am not the one who created you but I believe I have heart you should have hearts that believe in the existence of life," he said.
In December 2016, President Kiir, whose wrangling for power with Machar plunged the world's youngest nation into a brutal conflict, called for national dialogue that aims to accommodate all the country's political and armed groups' grievances.
South Sudan has been ravaged by ruinous civil war since 2013. Tens of thousands of people have been killed and over a million displaced from their homes.