Parties recommit themselves to truce agreement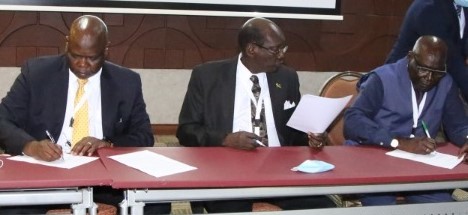 Representatives of the government and of the South Sudan Opposition Movements Alliance (SSOMA) faction on Monday recommitted to a "Cessation of Hostilities Agreement" signed on December 21, 2017.
Gen. Paul Malong Awan and Pagan Amum Okiech are both leading the faction of the rebel umbrella, South Sudan Opposition Movements Alliance (SSOMA). The faction is made up of two organizations, the Real Sudan People's Liberation Movement (R-SPLM) and the South Sudan United Front/Army (SSUF/A).
In their six-point statement seen by Radio Tamazuj, the parties say they have "recommitted themselves to respect and adhere to the Rome Declaration of 12th January 2020 and the Rome Resolution of 13th February 2020."
In the statement, both sides agreed to "abstain from any form of violence against civilians including sexual and gender-based violence and duly investigate in a timely manner and hold those responsible to account."
They also agreed to "grant unhindered and unconditional access to humanitarian assistance to all areas and recommitted to include SSOMA into Ceasefire and Transitional Security Arrangements Monitoring and Verification Mechanism (CTSAMVM) structures with the support of the regional bloc IGAD and international partners."
The parties say they "agreed to establish a channel of communication between SSOMA and CTSAMVM up to the time of its full inclusion into the STSAMVM structures and guarantee unfettered access for STSAMVM to monitor and verify compliance with the cessation of hostilities agreement."
The signatories of the statement concluded by agreeing to continue the political dialogue as part of the ongoing peace process to address concerns, the root causes of the conflict to achieve sustainable peace in South Sudan.
Peace talks' framework
Pa'gan Amum Okiech, leader of the Real Sudan People's Liberation Movement (R-SPLM), said both sides discussed a framework for peace negotiations in which all political issues will be thoroughly discussed in this round of talks.
"All the political issues will be negotiated under the root causes of the conflict in South Sudan. The discussion centred on how we can save South Sudan from these endless transitional periods and build sustainable peace in the country," Pa'gan told Radio Tamazuj on Monday.
The opposition politician said the ongoing peace process will create a new phase of transition that addresses the past mistakes and allow to achieve the democratic transformation in South Sudan.
"I would like to reiterate our commitment to the unity of the opposition groups and we will work to address our internal problems amicably because I believe we only have differences on secondary matters," Pa'gan
The parties are scheduled to continue negotiating in Naivasha, Kenya until March 12. The talks are facilitated by the Rome-based Sant'Egidio Community in coordination with the government of Kenya.