Naivasha: Peace talks open with calls to end violence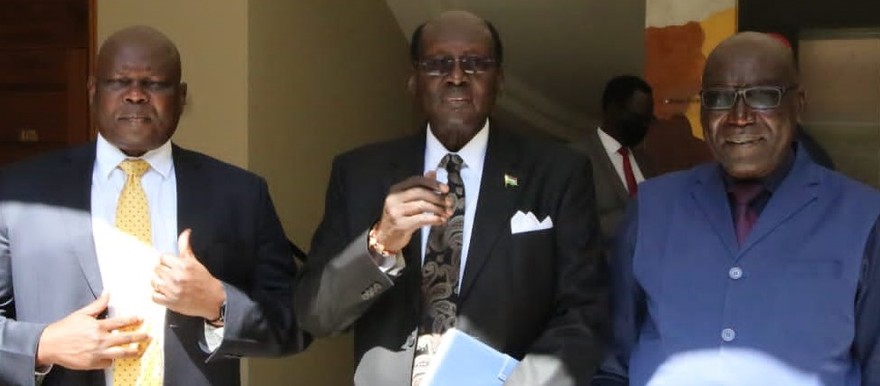 Magan Amum (Left), Barnaba Marial (Middle) and Paul Malong (Right) during the opening session of the peace talks in Naivasha, Kenya on March 8, 2021.
Peace talks between South Sudan's government and a faction of opposition groups kicked off in Naivasha, Kenya on Monday. The much-awaited talks started with both sides reiterating commitments to end the conflict.
The talks, facilitated by the Rome-based Sant'Egidio Community, were scheduled to resume last month but were adjourned after some government delegates tested positive for Covid-19.
In January 2020, both sides signed a peace declaration in which they recommitted to the cessation of hostilities and called for uninterrupted humanitarian access to the local and international organizations.
General Paul Malong and Pagan Amum are both leading a faction of the rebel umbrella South Sudan Opposition Movements Alliance (SSOMA). It is made up of two organizations, the Real Sudan People's Liberation Movement (R-SPLM) and the South Sudan United Front/Army (SSUF/A).
"Both of us the government delegation and the SSOMA delegation here are trying to reach peace. I am very hopeful that we will achieve progress in this session," Government Chief Negotiator Dr. Barnaba Marial Benjamin said, as he addressed the opening session.
"You may recall that the cessation of hostilities agreement was signed before a split with SSOMA's ranks. Despite the split, the government continued a parallel negotiation with the two groups notwithstanding their differences," he added.
Dr. Marial reiterated the unity government's commitment to dialogue and peace in South Sudan.
Pagan Amum, leader of the Real Sudan People's Liberation Movement (R-SPLM), said: "This is time to genuinely learn from our experiences, from our few and limited successes, and from our so many mistakes. I would like to express our commitment as SSOMA that we have come here with open hearts and genuine commitment to seeking a genuine solution to the problem in our country."
According to the opposition politician, the South Sudan Opposition Movements Alliance (SSOMA) is seeking a radical solution to problems facing the country.
Paul Malong, leader of the South Sudan United Front/Army (SSUF/A), reiterated their commitment to dialogue to reach a peace agreement. He thanked all regional and international partners for supporting South Sudan to achieve peace and stability.
The talks between the government and the holdout opposition groups started in 2019.