NAIVASHA/KENYA -
11 Mar 2021
Naivasha: Parties sign declaration of principles agreement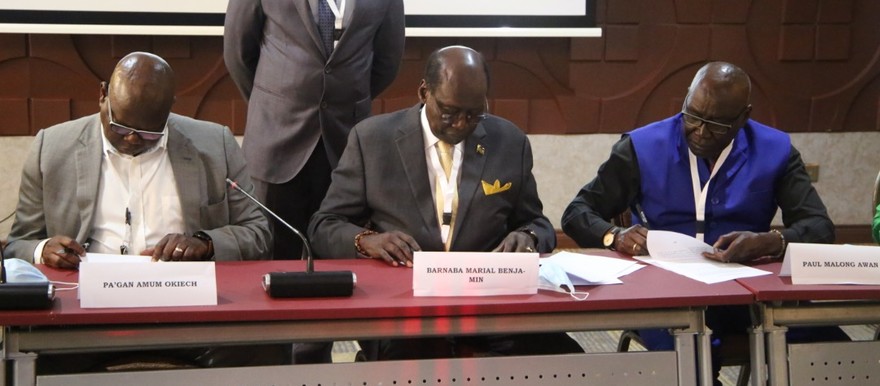 Pa'gan Amum, leader of the Real Sudan People's Liberation Movement (R-SPLM) (Left), Dr. Barnaba Marial Benjamin, head of the government delegation (Middle), General Paul Malong Awan leader of the South Sudan United Front/Army (SSUF/A) (Right) during the signing of the DoP in Naivasha, Kenya March 11, 2021. [Photo: RadioTamazuj]
The government of South Sudan and the South Sudan Opposition Movements Alliance (SSOMA) faction led by General Paul Malong and Pa'gan Amum has signed a Declaration of Principles agreement today after four days of intensive negotiations in Naivasha, Kenya.
The parties say the document signed under auspices of the Community of Sant'Egido in coordination with the Government of Kenya, regional organizations, and the international community, will form the basis for subsequent political dialogue aimed at resolving the root causes of the country's conflict.
The 15-point document signed by both parties highlights issues ranging from land administration, eradication of divisive policies, constitutionalism, federalism, good governance, rule of law, proper management of state resources, professionalization of the law enforcement agencies, public service reforms among others.
"It is an extensive basic document with principles that will lead us to the final peace process. It took us two days to discuss this document and I am glad to say this morning we have at last agreed very amicably", said Dr. Barnaba Marial Benjamin, head of the government delegation (RTGoNU) after the signing of the document on Thursday in Naivasha, Kenya.
Pa'gan Amum, leader of the Real Sudan People's Liberation Movement (R-SPLM), speaking after the signing of the agreement said, the ongoing peace process will lead to an inclusive and sustainable peace in the country.
"It will allow our people to rebuild their broken lives. Our people have been subjected to a lot of suffering over so many years during our struggle and during the time South Sudan was controlled by outside forces and unfortunately, after independence we have subjected the country to wars that have displaced so many of our people….it is now time for peace," he added.
He reiterated the parties' commitment to the peaceful resolution of disputes saying, "All these principles agreeing for us to build a democratic modern state that will be capable to build a nation based on respecting our diversity, a state that will unite all our people and build a nation out of our 64 nationalities and so that our people can live in peace and harmony. These are what we have agreed on and this will be the basis of further discussions in the next round of talks.
For his part, General Paul Malong Awan leader of the South Sudan United Front/Army (SSUF/A), noted that the talks are part of efforts to bring sustainable peace for generations to come.
"We have discussed and agreed that we want a South Sudan where all communities will live in peace across the country. We are working on these things because we are leaving, and other people are coming, so we want to leave you in peace. I want to tell our people that these discussions are for them, not for us as individuals. It is for the sake of those who are here and those yet to come," Malong stressed.
The peace talks that began on the 8th are scheduled to conclude on the 12th of March.
On Monday, both sides recommitted themselves to a cessation of hostilities agreement signed on December 21, 2017. They also agreed to continue the political dialogue to address the root causes of the conflict to achieve sustainable peace in South Sudan.