N. Bahr el Ghazal government detains anti-corruption boss over embezzlement report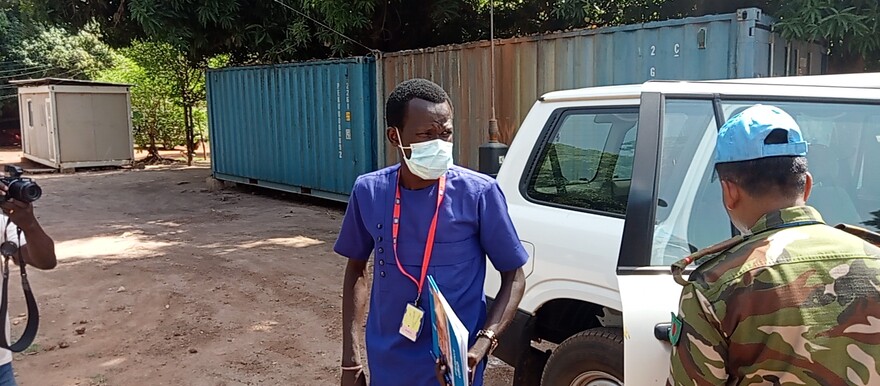 Northern Bahr el Ghazal State Anti-Corruption Commission Chairperson Anei Rok Akuei at Aweil UNMISS office on 27 May 2022. [Photo: Radio Tamazuj]
The Northern Bahr el Ghazal State government Tuesday arrested the state's Anti-Corruption Commission Chairperson, days after he filed a report on mismanagement and embezzlement of public funds.
Anei Rok Akuei, in his report, alleged that the state had money and questioned the governor's office why there was no delivery of services to the people and why civil servants had no vehicles to conduct official duties.
The state anti-corruption chief claims that the monthly funds resulting from Personal Income Taxes (PIT) transferred from Juba to Aweil are SSP 2.2 Billion from local staff and USD 317, 000 from the staff of international humanitarian organizations. He further said that WFP pays USD 60,000 annually for renting stores in the state and that the state government collects another SSP 30 Million locally in revenues.
Speaking to Radio Tamazuj on Tuesday, the Northern Bahr el Ghazal State information and communication minister, William Anyuon, confirmed Rok's arrest and said the detained official wrote a report on social media that alleged that the top state government figures have been involved in embezzlement.
"You know, his (Rok's) arrest is in regard to the report that he wrote and put on social media. He was claiming that some officials from the government, including the governor, minister of finance, and the institution of the revenue authority have embezzled money," he explained. "He went as far as mentioning some of the amounts of money that he was claiming had been misused by the ministry of finance and the revenue authority opened a case against him."
A state government official who was on the scene but preferred anonymity said he saw a police vehicle with 20 armed cops storm Rok's office and take him away at midday on Tuesday. 
"The police car came loaded with more than 20 armed personnel, they jumped out of the car in a frightful way and they entered the office," he said. "When we asked them what they wanted, they told us that they wanted the anti-corruption boss and they unveiled a warrant of arrest."
"We escorted him to the police station and the police did not show him respect and despite his immunity being waived, they should not have thrown him in jail," he added.
The state's police commissioner, Maj. Gen. Phillip Madut Tong confirmed Rok's arrest and detention but said he did not have details about the case.
"A case has been opened and I do not know the reasons because the case is still at Aweil Town Police Station and I am now at the Police Headquarters," he said. "After I get details, I will update you as soon as possible."