'My husband died in vain' - VP Nyandeng laments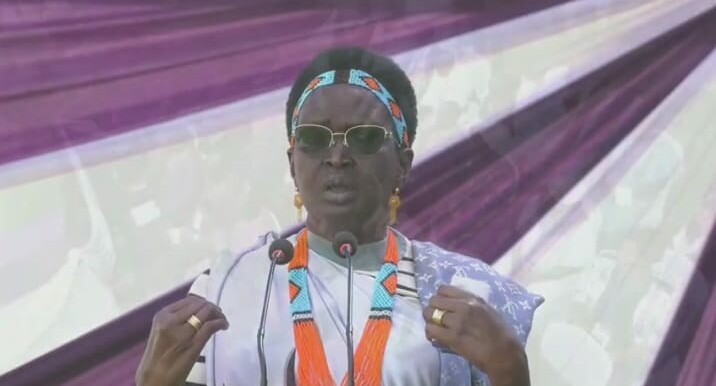 South Sudan's Vice President for the Gender and Youth Cluster Rebecca Nyandeng De Mabior speaking at ALl Saint Cathedral Juba on 4 February 2023. [Photo: Radio Tamazuj]
South Sudan's Vice President for the Gender and Youth Cluster and the widow of SPLM founder Dr. John Garang said her husband and all who lost their lives in the liberation struggle died in vain.
Madam Rebecca Nyandeng De Mabior was addressing Christians at the All Saints Cathedral in Juba on Saturday during the service presided over by the Archbishop of Canterbury, Justin Welby who were in the country on an ecumenical visit with the Pope and the moderator of Scotland.
Nyandeng said it was unfortunate that the church leaders came at a time when 'the country was bleeding'.
She was referring to the recent incidents where 27 people were killed in Kajo Keji County of Central Equatoria State on the eve of the church leaders' visit to South Sudan.
"My condolences to those who lost their lives in Kajo Keji, being the cattle herders and the residents of Kajo Keji," she said.
"My heart is broken and I am sure if it was not for this country, Dr. John would not have died. But he died for you. But the way his people are dying now, he died in vain. Change your hearts," she added.
Madam Nyandeng acknowledged that the government had failed the people of South Sudan and urged the church to pray for the leadership to forgive each other and work for the people. 
'Our hearts and minds are filled with bitterness. Pray for us for forgiveness so that we can open a new page," she urged.
"I want you to pray for political will so that we as the leadership accept one another because if we accept one another we will not be working as parties but as one government and serving one people," she stressed.
According to Nyandeng, the leaders who are supposed to serve the nation have taken their positions for prestige instead of service.
"Let us stop divisions, let us stop the bitterness in our hearts. We are one people, God created us in his own image," she concluded.
The Vice President also called on her fellow leaders to open their eyes to the invasion on South Sudan lands by neighbors who she said are using their disunity to amass lands.