Mvolo calm after long periods of insecurity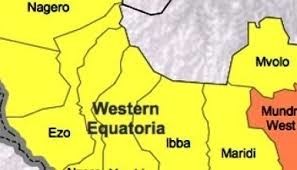 Western Equatoria State's Mvolo County has since the outbreak of the war in December 2013 and escalation in 2016, experienced varying degrees and types of insecurity in the form of illegal roadblocks, highway robberies, cattle raids, and attacks on villages.
Several residents of Mvolo who spoke to the Radio Tamazuj said there is relative peace in the county but that pockets of insecurity occur in some areas.
Monica Sarah said there is some relative peace as illegal roadblocks have been abolished but they still have problems with the neighboring Lakes State.
"From the middle of last year up to now, we are happy because there is no issue of killing or blocking the road. There is nothing, somebody can travel to Mundri and other places without being killed. But we only have a problem with our neighbor (Lakes State) at the border which is making us unhappy," Sarah said.
Sekondo Mariam, another Mvolo County resident, said she hears there is peace but that she is not feeling it due to poor health services and facilities in the county.
"We are happy for the peace as our governor has come here with peace, but the only problem is in the sector of health. Health is important and we need our hospital to be maintained because we cannot go far away for treatment. After all, the patient may die on the way," Sekondo said.
Another Mvolo native, Roda Dawud, said the situation is normal but that she was not happy because of cattle raid by people from Lakes State, "for us here in Mvolo we have peace but what is not good is the border issue between Dinka and Jur, every year they fight us and loot our cows, that is what is happening but there is peace."
Meanwhile, the Governor of Western Equatoria State, Gen. Alfred Futuyo during his visit to Mvolo County assured the communities there that he will resolve the dispute between Mvolo and Mapurudit of Lakes State.
"We are not going to sit in the state and tell the authority in the county that this is what is going to happen. We will come and I will call the governor of Lakes State and all of us will sit in Mvolo here and discuss the issue here. And we will go where the fighting used to take place till we resolve it then I will go back," Governor Futuyo reassured.