Celebrity Segment -
26 Apr 2022
'Music is my best advocacy tool'- Manasseh Mathiang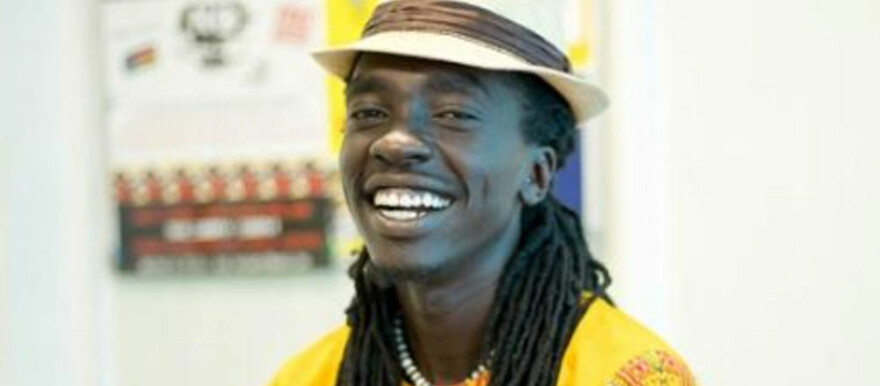 Musician and peace activist Manasseh Mathiang. (Courtesy photo)
A musician, activist, and entrepreneur who elected to use music and art as a tool for advocacy, meet Manasseh Mathiang!
A leading member and coordinator of the popular youth advocacy group, Ana Taban (which means "I am tired" in Juba Arabic), a South Sudanese grouping of artists comprising young painters, muralists, musicians, designers, poets, and performers dedicated to bringing peace to the country through the vehicles of theatre, music, and graffiti.
Sounded out by Radio Tamazuj, Mathiang reveals that he loved and embraced music from childhood and later realized that it is a tool that has been widely used to pass great messages.
Below are edited excerpts:
Q: What enthralled you to become an artist? 
A: I just love music. I loved to sing and all through I have always desired to pass messages through music because I realized that music is a tool that has been widely used to pass great messages. 
Since I was a young kid, I have been passionate about music and one of my nicknames was Jackson Six because I was born during the generation of the Jackson Five and I loved dancing to their music since I was one year old.
Q: Since the time you started your career as an artist, how many albums have you recorded?
A: I have one album which has 14 songs but I am finalizing my second album which has 12 songs with the different collaborations that I have done.  You could say I have recorded about 30 to 40 songs.
Q: Out of the songs you have recorded, what is the main issue that you are advocating for?
A: Wow! There is no single message but I could always say that I am advocating for things that I am always passionate about. It is either things to do with the gospel or things to do with South Sudan. One of my favorite songs is called Giwaja and it is a personal story that I believe many South Sudanese relate to. Because of the conflict in our country, families are separated from their children. Parents do not have a lot of time with their children because they take them to another country for safety and to get a proper education while they are looking for money somewhere else. So, the song is a personal story because I feel it is a painful feeling of being separated and missing everyday memories.
Q: If you look at some of the songs that musicians sing in South Sudan, you realize that they praise or impress politicians for personal interests. What are your thoughts about musicians being associated with political parties and or senior politicians?
A: I do not believe in the theory of aligning your art to a political grouping or a political individual for you to be protected. South Sudan belongs to every citizen and every citizen should feel safe in the country. However, every song has an audience and every song has a purpose, so if a specific artist would prefer to use their songs to praise an individual, they have the right. However, I usually sing about things that I feel are of importance to me and relate to the masses who are my listeners with the hope that they will gain something.
Q: Is there any conflict of interest in being an artist and at the same time an activist?
A: Well, activism is a tool that people use to advocate for issues of concern to them and there is no particular method by which someone can play their activism. For me, I find that my best tool to advocate for an issue is through my art so there is no conflict of interest, they work pretty well together.
Q: Do you think that activism in South Sudan plays a neutral role in terms of advocating for the citizens of the country?
A: Yes, I believe that the activists in South Sudan have done so much. They have played a huge role in changing perceptions of things and also bringing in new policies and changes in the country. I think the population should appreciate the role that activists have been playing because they have been risking their lives every day for issues that are of concern to everybody.
Q: What are some of the challenges that you have faced in activism?
A: As an individual, I have found challenges with some people who do not like the messaging in my music. Also, you will find many of my other colleagues have been arrested for the songs they have done. There are those who have been arrested because of cartoons or art that they draw. So, you will find that many artists self-censor because they are afraid of being targeted when they sing or talk about issues that they feel are of high importance to their community.
Another issue that I think is of concern to the artists is that they are being harassed because of the way they dress or the type of music they sing. Some artists have had their hair shaved off. I think that is an issue that artists are facing. They feel misunderstood.
However, art is beautiful! There are so many ways in which you can craft your messaging to ensure that it goes through less lethally but is understood by the population.
Q: Do you think that the South Sudan government has created a conducive environment and given artists opportunities?
A: I feel that there is a lot of room for improvement when it comes to the cooperation between the government and the artists.  If you look at other countries, you will find that the government understands and values the arts. In Nigeria for example, you will find that arts are a multibillion-dollar economy and the country receives a lot of income from the entertainment industry. This also happens in so many other countries. I do not think there has been a lot of interest that the artists in South Sudan have seen when it comes to government cooperation.
Q: Do you think that the content put out by artists in South Sudan has brought about more unity and togetherness among the communities?
A: I believe that there has been so much art that has been promoting unity in South Sudan. If you listen to the songs of legends like Emmanuel Kembe, and Gordon Koang, these people have done music that brought people together during independence. If you look at John Bagara's songs, people from different parts of the country dance to them as it has been bringing hope. I believe that there has been a lot of positive music that has come out of South Sudan.