Museveni stands by Kiir, rejects calls for president to quit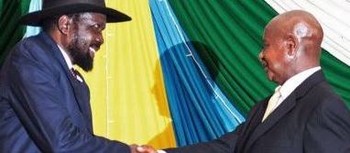 Uganda's president Yoweri Museveni backed President Salva Kiir after calls for his resignation over the ongoing conflict in South Sudan.
Addressing the SPLM Liberation Council meeting in Juba on Thursday, President Museveni urged the regional leaders not to push South Sudan to have a vacuum.
"They come and say Salva Kiir must go today, but Salva Kiir has got people who support him. If you say he goes now, then what will happen to his supporters?" he asked.
"Some of them say Salva Kiir should go and Riek Machar should go. That's a perfect scenario for vacuum," he added.
Former Ethiopian prime minister Hailemariam Desalegn has recently called on South Sudan's President Salva Kiir to resign and hand over power to new young leadership.
Despite mounting calls for him to quit, many of which are coming from his opponents, President Kiir defiantly insisted that he would never resign.