Museveni sends special message to Kiir as 'talks progress'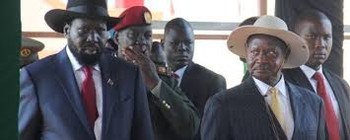 Uganda's President Yoweri Museveni on Wednesday morning sent a special message to his South Sudanese counterpart President Salva Kiir as South Sudanese peace talks progress in Addis Ababa.
The message was delivered through President Museveni's special envoy Moses Ali who is also Uganda's First Deputy Prime Minister.
Speaking to Radio Tamazuj today, South Sudan's presidential spokesman Ateny Wek Ateny said the message sent by Museveni centred on the general situation in the young nation and the ongoing peace talks between parties in Addis Ababa.
"The message is connected to the general situation in South Sudan and especially peace talks our delegation is attending in Addis Ababa," Ateny said.
He further said the two did not discuss a suggestion proposed by Museveni recently calling for elections in South Sudan, saying that was Museveni's proposal at the ongoing talks.
South Sudan's warring parties today morning finalized the review of the provisions of the agreement on declaration of principles. It is expected to be signed later today.
Uganda, a key ally of South Sudan's President Salva Kiir, fought alongside South Sudanese government forces against rebels after the outbreak of civil war in December 2013.The Ugandan troops pulled out of South Sudan as part of the 2015 peace deal signed in Addis Ababa.