Museveni salutes Machar for honoring Khartoum talks to end war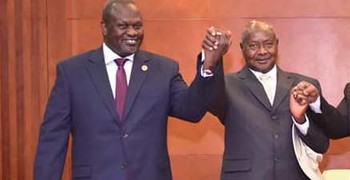 Uganda's President Yoweri Museveni saluted South Sudan opposition leader Riek Machar for honoring the ongoing peace-making mission in Khartoum for the benefit of all people in his country.
In a Facebook post this afternoon, Museveni also appreciated President Kiir for being present too at the peace talks in Khartoum.
"My appeal to key political players in South Sudan is to have constructive deliberations as they negotiate for peace, unity and concretize the ground for the development of their country," he wrote.
"I used to see South Sudan developing but later it went into a standstill because of disunity. Today, we have had discussions on matters of peace in South Sudan and we have a good starting point to restore political normalcy."
The Ugandan leader said it was a good gesture that both President Salva Kiir and opposition leader Riek Machar shook hands.
Museveni pledged full support and solidarity to ensure that South Sudan is back on the track of economic and social development.
President Museveni joined regional leaders today at the Friendship Hall in Khartoum for the IGAD summit on facilitating the peace process in South Sudan.