Mundari community peace conference concludes in Juba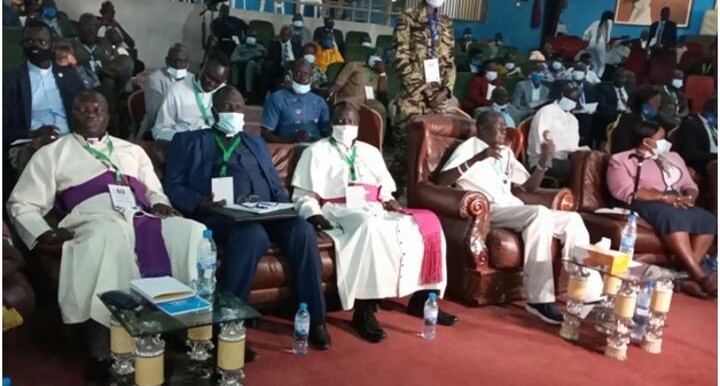 Delegates at the Mundari Peace and Reconciliation Conference in Juba 11-13 Jan 2022.
A three-day peace and reconciliation conference for the Mundari community concluded Thursday in South Sudan's capital Juba.
More than 300 stakeholders including church leaders, traditional chiefs, intellectuals, county commissioners, youth leaders, and other state executives attended the conference under the theme, "May they all be one. John 17: 21".
Organized by the Church Leaders Peace Initiative with support from UNMISS and its partners, the conference was meant to reconcile Mundari communities in order to realize sustainable peace.
Speaking to Radio Tamajuj on Wednesday the program coordinator Whitaker Peace and Development Initiative in South Sudan Bush Bushe said: "The conference is going to analyze conflict-related issues in the Mundari land and prescribe homegrown solutions to the problems." 
Moreover, the Archbishop of the Episcopal Chuch of South Sudan Central Equatoria Province and co-chair at the conference Paul Yugusuk urged the Mundari community to embrace peace and reconciliation.
"Let them be part of this peace and we should not experience any form of conflict, no retaliation. People should be calm because peace has come and God himself has already intervened," he said.
For his part,  James Lino, the commissioner of Terekeka County echoed the calls for peace. 
"We want peace, we don't want to go back to conflict. To anyone who had issues with anyone, they should forgive each other because we are in a new year and the new year comes with new changes. And we to forgive ourselves as the Mundari community," he reiterated.