MPs receive bonus of $18 million in Juba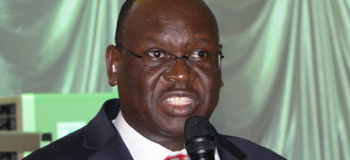 Photo: Parliamentary speaker Anthony Lino Makana
South Sudan's MPs, who are among the poorest-paid in the region, have received a "bonus" worth as much as $18 million in Juba.
The bonus was quietly awarded to the lawmakers in the capital Juba this week, and comes two weeks after they extended President Kiir's term in office until 2021.
The lump sum worth $39,000 for each MP from the two houses of parliament could take an average South Sudanese worker several years to earn what each MP has been given.
Paul Yoana Bonju, head of the parliamentary committee on information declined to comment on the matter when asked by journalists.
But multiple legislators told Radio Tamazuj today that the government allocated the money to them to buy cars and houses.
"The reason for the money given by the President is that some of us don't have cars and houses," one of the MPs who preferred anonymity said.
The salaries for civil servants in the country have not been paid for at least two months.