MPs meet behind closed doors as pay row continues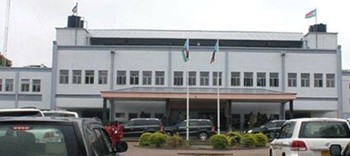 South Sudanese lawmakers on Monday held closed-door meetings in an attempt to resolve the pay dispute which has left the legislature and the cabinet at loggerheads.
Legislators stormed out of a budget presentation for the 2019/2020 financial year by the finance minister on Thursday last week, citing unpaid salaries for the army and civil servants for the last six months.
There was chaos in the parliament as MPs barred Finance Minister Salvatore Garang from presenting the budget, forcing speaker Anthony Lino Makana to suspend debate on the new budget.
A parliament sitting scheduled for Monday was postponed as various caucuses embarked on a series of closed-door meetings in a move towards resolving the salary row.
Paul Yoane Bonju, the head of the parliamentary committee for information, told Radio Tamazuj that he was in a meeting.
"I am now in a meeting chaired by the speaker," he said.
Dhoruai Mabor Teny, a lawmaker representing Rumbek East, said they held a caucus meeting attended by the finance minister.
"We are still discussing the issue of the new budget," he said.
Deng Goc, another lawmaker representing Renk, said the MPs were busy with meetings of caucuses." The SPLM caucus met and the SPLM-IO led by Taban also held its caucus meeting," he said.
The lawmaker explained that the meetings focused what took place in the parliament last week. Goc pointed out that the demand that the finance minister explain why the army and government employee have gone unpaid for several months needs be separated from the new budget.
"The new budget will be presented and discussed. The second part which is the other budget can be discussed separately, so this is the right procedure," he explained.
"We met as Upper Nile caucus and reviewed the procedures followed during the last parliament sitting, and we found that some of the regulations were violated," he continued.
Goc said that their meeting resolved to allow the finance minister to present the budget and pay arrears to civil servants and organised forces.
The finance minister was due to present a 208.156 billion South Sudanese Pounds budget for 2019/2020 financial year.
The cabinet last week reacted strongly to the parliament's unexpected move, saying the finance minister should be allowed to present the budget.
South Sudan is struggling to increase oil production, months after the signing of the peace accord in September 2018. Currently it pumps produces 175,000 barrels per day of crude oil.
Last month, the Commissioner General of South Sudan Revenue Authority announced that they collect nearly 4 billion SSP every month.