'Mounting tensions' between gov and rebels in W. Bahr el Ghazal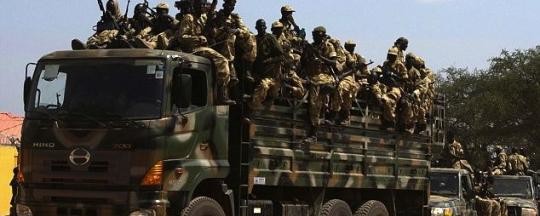 Residents in South Sudan's Western Bahr el Ghazal state expressed concern at 'mounting tensions' between government forces and defected troops in the state.
Speaking to Radio Tamazuj yesterday, several eyewitnesses confirmed the heavy deployment of government soldiers in the state, saying there was extensive military movement lately especially after clashes erupted earlier this week between police and opposition forces at Baggari area.
The clashes in Baggari forced the police unit deployed in Mapel area to withdraw, prompting the state authorities to deploy police forces brought from Lakes State, according to the same sources.
The latest military developments in Western Bahr el Ghazal come after the governor Rizig Zachariah instructed the police to pursue the rebels in the state.
Photo: SPLA soldiers in Juba on 21 December 2013 (Reuters)