More villagers flee as government troops advance on Pagak: official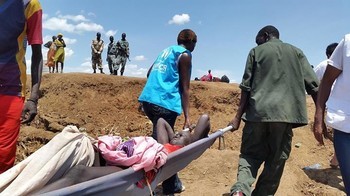 File photo: UNHCR staff in western Ethiopia help move a wounded South Sudanese refugee, who fled across the Baro River to escape the violence. (UNHCR/L.Godinho)
A government army offensive on Mathiang, Odier and Maiwut villages near an opposition stronghold has forced nearly 30,000 civilians to seek shelter in Pagak area, a senior opposition official said on Sunday.
Manawa Peter Gatkuoth, a leading member of the opposition led by former first vice president Riek Machar, said the people have fled their homes since the last two days as government troops bomb their villages with heavy artilleries.
He pointed that they fought with government forces in Mathiang on Saturday but the government could not advance on Pagak. He accused the government forces of launching offensives on Odier and Maiwut areas.
"The government forces want the civilians to flee from the areas of Odier, Mathiang and Maiwut. They also want the aid workers to leave, so they want to make the situation difficult," said Manawa.
SPLA officials could not immediately be reached for comment.
Last week, the United Nations said about 5,000 civilians were forced to seek refuge in neighbouring Ethiopia due to escalating clashes near Pagak, the headquarters of the opposition group led by Riek Machar.
The civil war that began in South Sudan in 2013 has claimed tens of thousands of lives and displaced more than 3.5 million people to neighbouring countries.